OCTOBER 14th 2017

Clair Hall, Perrymount Road, Haywards Heath RH16 3DN

To kick off the 17th Autumn series, we welcome back one of our favourite combinations of band and Caller ...
JIGALOTS + FEE LOCK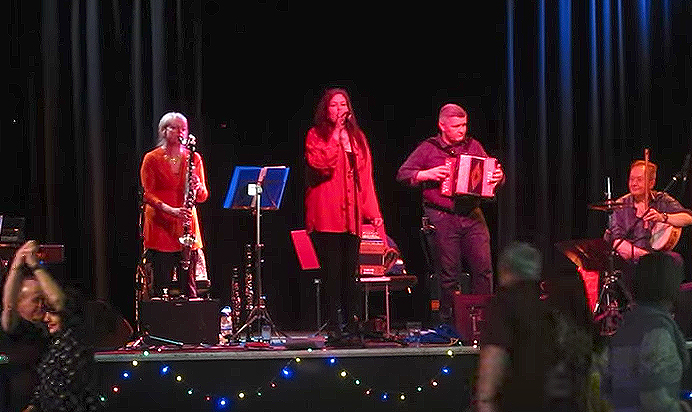 https://jigalots.wordpress.com/

Their NEW full 5-piece line-up will be with us on the night. Yippee!
Line-up comprises:
- Gary O'Mahoney (melodeon/concertina)
- Rob Watkins (fiddle/octave fiddle)
- Fiz Markham (bass and Bb clarinets)
- Andy Richards (pipe and tabor/hurdy gurdy/rauschpfeife )
- Heather Horsley (keyboard)
So here's a little Youtube clip of the new line up at Towersey Festivel'17 (with Michelle Holding calling)
JIGALOTS. With a great set of interesting instruments - plus that rauschpfeife (name literally means 'noise-pipe')! - giving a wonderful varied sound, JIGALOTS can play a richly mixed bag of music from 14th to the 21st century; with a few self penned tunes thrown in.
The band says, "The only requirement for any tune we play is that whoever is listening to us will want to dance. We are all dancers ourselves and we know just how important it is to make our music very danceable!" ... and it most certainly is!
Fee Lock is one of the most experienced - and probably the only rock-chick - Caller on the folk circuit! Fee spices up an unerring eye for what the dance-floor wants by pogo-ing up and down between cut-glass enunciations! Her clear instructions, favourite after danceable favourite spiked with unusual new dances always make for a great evening.
So let's shape-up to winter, get dancing and jiggy with JIGALOTS
See www.meltdownec.org.uk for full details, FAQs etc.

Come with friends! ... Talk to Penny for Group / Family discounts. 

TICKETS ON DOOR or reserve: This email address is being protected from spambots. You need JavaScript enabled to view it.

£12/ £10 all usual concessions / £5 STUDENT SPECIAL: Under-25s in full-time education.
******************
SO WHAT ARE MELTDOWN CEILIDHS?? (say that kaylee)
MELTDOWN has been run entirely Not-for-Profit by Volunteers at Clair Hall since 2001.
Barn Dancing is a fun, easy dance form for everyone. You've probably had a blast at one at a Wedding? English Ceilidh is the high-energy end. Leaping, or walking about (as age, energy and fitness dictate!) to some of the very best bands on the English ceilidh circuit. You will dance in groups (sets) - but you don't have to bring a partner - just ask someone for a dance. You'll soon get to know the 'regulars' (who are a very friendly lot!). So there's always a range of ages, sizes and experience in any given set - all getting on and all having a great, smiley time!
No classes to attend, no exams or grades - no 'sniffy experts' looking down at you if you do go wrong! And without many actual steps to learn - it's easy to pick it all up anyway!
MELTDOWN always books festival-level bands and Callers. Each band brings a different set of instruments, influences and repertoire to the dances - so no two evenings are the same in a season. Bands can range from modern traditional at one end to guitar-heavy folk-rock at the other, with a good smattering of European and World influences in their mixes. The only critera we use in booking bands is that they have to make the Committee want to get up and dance all night!!
******************
As usual - If you want a table set up and reserved for you the bar (which opens into the hall so you won't miss the action but can hold a conversation!) - talk to Penny beforehand ...
E: This email address is being protected from spambots. You need JavaScript enabled to view it.
T: 01273 541453
the details:
WHEN: Saturday OCTOBER 14 2017. 20:00 - 23:15. Doors open 19:45.
WHERE: Clair Hall, Perrymount Road, Haywards Heath RH16 3DN
ALL TICKET DETAILS: here